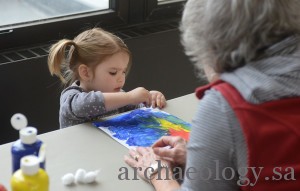 The Museum of Art and Archaeology at Mizzou North hosted "Experimenting with Color" on Saturday.
Children were given two color swatches to match with colors in paintings while walking through the museum's galleries. After walking through the galleries, families experimented with mixing paint and creating their own pieces of art.
"We want to introduce children to the world of art and really bring people to the museum," said assistant museum educator Rachel Navarro.
Events are held once a month during the school year and every week throughout the summer at the Museum of Art and Archaeology.
Columbia Missourian
FEBRUARY 14, 2016